The times are difficult for mankind for the past year. After the breakdown of the COVID-19 virus, many people have lost their jobs. In these tough times, students expected a concession in the IP University fees to keep their studies going. But, as it turned out, University neglected the demands of the students in the academic year 2020-21 and increased the fees instead. After a year and a deadlier second wave, students are demanding a reduction in fees once again. Let's dove deep into the matter.
The problem for IP University fees: Yes, It Exists
While you are reading the article, you might think that does the problem even exists? Do students are in real trouble regarding fees. The answer is yes. After a campaign ran by us on our social media platforms, we have received over 150 emails in the last 24 hours. The number is increasing exponentially highlighting the impact that COVID had on the students and their families.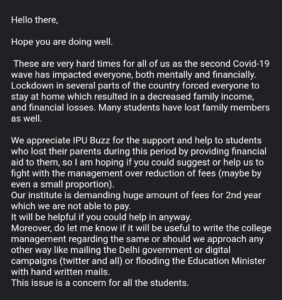 Demands
Students are very clear about their demands from the university. They need the university to look into the crisis and give some respite to the students. Students believe that the current fee structure of IP University and its affiliated colleges is not justifiable in these tough times. With the expenses of University are lower, there is a question on the need to increase the fee further. Students want some relaxation in fees to ensure that they can study further.
What does management say?
As of today, there is no indication from the IP University management on the fee for the next academic year. However, an initiative was run by the Directorate of Student Welfare(DSW) of IP University for financial assistance to the students. The assistance will be given to those students who have lost both parents or the breadwinner of their family. The steps give hints in a positive direction, but saying anything is uncertain right now.