Patriot Act, a talk show which ran for 40 episodes across six seasons from December 2018, with the host  Hasan Minhaj riffing on the news stories of the day, has come to an end.
Topics tackled by Minhaj included global obesity, the Indian elections, censorship in China, the legalisation of cannabis, protests in Sudan, mental health and contemporary hip-hop.
Patriot Act was one of only a few topical talk shows on Netflix – a genre that has long been a staple of traditional broadcasters.
What draws attention here is that the show has been cancelled mere months before the presidential elections in the United States
Hasan Minhaj tweets
Hasan Minhaj tweeted "What a run. @patriotact has come to an end. I got to work with the best writers, producers, researchers, and animators in the game. My 2 babies were born and grew up with the show. TY to @Netflix and everyone who watched. Now it's time to return these screens to Best Buy"
Minhaj's narrative of being a brown Muslim kid in America also stood out – when he spoke about his immigrant experiences, being a brown kid, his "other"-ing juxtaposed with his love for sneakers. He had the ability to make audiences feel uncomfortable whether he was talking about clothing brands like Supreme, or the murder of a journalist in Saudi Arabia.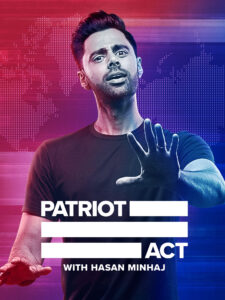 Why was the show cancelled?
Usually when a broadcaster cancels a series, it's because viewing figures are low. But Netflix never releases viewing figures, unless they are good.
A source familiar with the decision told Forbes that Netflix weighs viewers against cost when making renewal decisions, and has struggled to succeed in the talk show category.
No other reason has been put forward. Earlier this year, a former staff member complained that the working environment on The Patriot Act made her unhappy.
How did viewers react?
Fans have been quick to voice their disappointment on Twitter, with many drawing attention to the way it covered significant topics and its importance to Asian Americans.
Some other reactions by the fans
"I do not get why Netflix would cancel a news comedy show that had a person of colour as the host, and covered a massive range of social and political issues untouched by most mainstream media. Seriously."
THE WAY THEY DID THIS RIGHT BEFORE THE ELECTION IT'S SO SUS JFKDFDKMMFM @netflix how do the boots taste
"wtf, Netflix. I was wondering only y'day about how hilariously scary a @patriotact episode on QA non would look like. Gone too soon; I hope some other network picks it up and lets them continue."
In 2019, the series won a Peabody Award and an Emmy for outstanding motion design.
(with inputs from BBC, News18 and others)
For more updates follow us on Instagram and Twitter