GGSIPU LATEST NOTICES
Documents Required at the time of reporting of candidates in their respective allotted Institute / Colleges for verification of documents and payment of the balance Academic Fee for admission in various programs during academic session 2020-2021.  
The reporting of candidates in their respective allotted institute for verification of documents and payment of the balance academic fee if any will start from December 3 , 2020 onwards for different programs , as per the schedule displayed.
Candidates must follow following instructions :
Documents required at the time of reporting
Provisional allotment letter
Receipt of part of academic fee
Necessary document pertaining to academic record for verification
Medical certificate
Character certificate
minority certificate
In result awaited  / compartment / supplementary cases
All such candidates who appeared for final examination will have to submit final result degree
all those candidates who failed to submit his/her final result should prove their eligibility before 31st December , who so ever failed to so for what so ever reason , his or her admission will be treated as Null.
Guidelines regarding Covid 19 issued from Govt. of NCT must be followed by candidates as well as by the institutes during the reporting
The principal / affiliated colleges may examine the request of admitted candidates who have genuine difficulty in physical reporting of documents  and payment of balance fees and thereafter may allow such candidates to report online.
Online Quiz Event For National Pollution Prevention day 20
December 2 is observed as National Pollution Control Day every year. The day is observed in the memory of those who have lost their lives in the Bhopal Gas tragedy on the night of December 2nd and 3rd, 1984.
Many people died due to poisonous gas Methyl Isocyanate also known as MIC. Bhopal Gas Tragedy is considered as one of the biggest industrial pollution disasters.
The key objectives are to educate people about the importance of pollution control acts and making them aware about industrial disasters. The day aims to bring awareness to people about prevention of air, soil, noise, and water pollution. To make people know about AVAGAT, an online quiz organized by NSS cell of unit B ( GGSIPU) . the session of AVAGAT is a step to make everyone aware of significance of pollution control acts and ways to prevent industrial pollution  .
INSTRUCTIONS
total time limit : 10 mins
winners will be announced on our Facebook and Instagram
do not press back or refresh button before submission
E-certificate for winners and all those score above 75%
Registration link : click here
No registration fees is required . we cordially invite you to participated and be part of the quiz.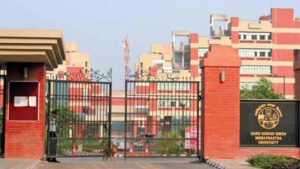 Revised Schedule For Round 3 Followed By Sliding Round Of Online Counselling / Admission for programs for academic session 2020-2021 and schedule for reporting  
Candidates must login into their account to see the declaration of result on December 3. candidate must submit their willingness for subsequent round of counselling
for details candidates should check out the admission brochure and are advised to visit  our website GGSIPU daily . Payment of part academic fee of Rs.40,000 should be paid by candidates who are allotting seats for the first time. allotment letter should be printed . result of sliding round will be out on December 7 , 2020. candidate must report on their respective allotted institute for verification of documents and payment.
Notification extended schedule for verification of documents for all registered candidates for program  B.VOC Academic session 2020-2021
All candidates of this course have to be reported in person for verification of documents at the venue, on the date mention below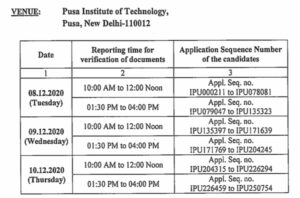 Notice regarding Interview Schedule for the Post of Controller of Examinations (COE) on tenure appointment of five years on direct or on deputation basis
This is in reference to the university advertisement dated 19.11.2020 and 23.11.2020 for the post controller of examination on tenure appointment of five years on direct or on deputation basis
The last date of application is 11.12.2020 up to 5pm
The date for interview is 22.12.2020 from 10am onwards
The interview call letters will sent separately to eligible candidates.