Guru Gobind Singh Indraprastha University (GGSIPU) has earlier released a notice on December 18, 2020 stating that the end – semester examination of the intermediate semesters will be conducted in online proctored mode from January 18, 2021. Due to the COVID-19 pandemic, the University has decided to take such step after a number of students previously disagreed with its decision to conduct the exams for even semesters in offline mode only.
Earlier on December 22, 2020, GGSIPU has released a tender inviting prospective e-bidders for conducting the end term semester examinations in online proctored mode through their deployed Software Interface that has the ability to accommodate and publish the Multiple Choice Questions and Subjective Questions in the same solution within the given time frame of the proctored examination.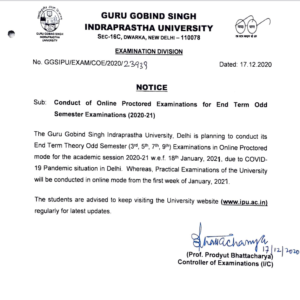 A meeting was held on December 24, 2020 regarding the proctored online exams of students in the various programmes across GGSIPU, its affiliated institutes and centres of university in which many queries about the exams were brought up. The meeting was attended by the Controller of Examinations, GGSIPU along with around 40 other attendees. The queries were raised by the bidders through e-mail and were answered by the University in the meeting.
When asked about the total number of students appearing including reappear, it was confirmed in the meeting that there are approximately 4 Lakh examination papers including the reappear students.
In another query regarding the software that will be used for the examination, the university responded in affirmative when asked by the bidders if the software should consists of all the phases i.e., pre-examination and post-examination phases along with facial recognition, etc.
Further, the University has confirmed with its bidders that the prospective date of the commencement of examination is from the 4th week of January, which was announced by the University on 18th of this month in a notice.
The notices consisting of all this information can be viewed on the official website of GGSIPU.
Follow us on Instagram for more updates!