Dr. Ramesh Pokhriyal, Union Minister for Education, announced the launching of the National Level Entrance cum Scholarship Test of Chandigarh University which is to be called "CUCET 2021".
"CUCET 2021 initiated by the Chandigarh University is a novel attempt to search for budding talent from every corner of India and motivate them to pursue their dream career by offering them an academic scholarship to overcome financial barriers", as stated by Mr. Pokhriyal.
The entrance test will be conducted for admission to various programs to provide an opportunity for bright and inquisitive young minds from across the country to study in the most challenging and diverse academic environment.
"Chandigarh University is investing heavily on the talent of Indian Youth and it offers a national platform through CUCET-2021 to such deserving students who aspire to be successful by undergoing quality higher education in the field of their choice," said Satnam Singh Sandhu, Chancellor, Chandigarh University.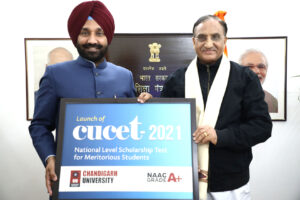 All You Need To Know About CUCET-2021
This entrance cum scholarship test would offer academic scholarships worth Rs. 33 crores to the students in more than 135 Undergraduate and Postgraduate programs offered by the University.
Students who score great in the CUCET-2021 exams will avail themselves of scholarships up to 100 percent.
CUCET-2021 would be conducted in two phases where the first one would run from December 2020 to May 2021.
Prof Satbir Singh Sehgal Registrar of Chandigarh University Gharuan while briefing about CUCET-2021 said, "The entrance test would be compulsory for students aspiring to seek admission to Engineering, Pharmacy, MBA, 5 Years Integrated Under-Graduate Law Programs, Agriculture while the test would also offer academic scholarships for all the 135 UG & PG programs offered by Chandigarh University".
The online application form is available on the official website and the students can appear online with the flexibility to choose the date and time slot.
Students can apply through both online and offline mode where the applications are available at the University website and regional centers of University across 21 states and UTs.
(With inputs from DailyExcelisor.com, cucet.cuhd.in)
Follow Us On Instagram For More!