In a recent turn of events, along with 4 other fellow comedians, comedian Munawar Faruqi was held for allegedly cracking jokes on Hindu deities. The complaint was filed was by Eklavya Singh Gaur (36), convenor of Hindu Raksha Dal and son of local BJP legislator Malini Laxman Singh Gaur.
As per the police, the comedy show was held in a cafe in Dukan area of Indore. Followed by which Gaur and his associates tried to stop the show and even created a ruckus.
"A case was filed late on Friday night against stand-up comedian Munawar Faruqui, a resident of Junagadh in Gujarat, and four Indore-based persons based on a written complaint filed by Eklavya Singh Gaur, who also submitted a controversial video footage of the comedy show," in-charge of Tukoganj police station Kamlesh Sharma said.
"All the five accused were later arrested," he said.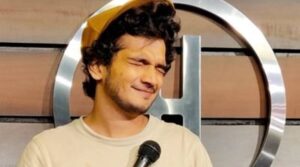 Along with Munawar Faruqi, 4 other comedians were arrested. These 4 comedians have been identified as Edwin Anthony, Prakhar Vyas, Priyam Vyas and Nalin Yadav. All of them were booked under IPC sections 295-A (deliberate and malicious acts, intended to outrage religious feelings of any class by insulting its religion or religious beliefs), section 269 (unlawful or negligent act likely to spread the infection of any disease dangerous to life) and other relevant provisions.
Some media reports said that the stand-up comedian was also thrashed by the workers of Hind Rakshak during the ruckus in the cafe.
However, Gaur denied the charge.
Here's how Twitter reacted:
Comedian Munawar Farooqi is in jail at Tukoganj Police station in Indore. This Government is afraid of clowns. That's how fragile their narrative is. That it can be undone by a joke on their atrocities on the powerless
— Agrima Kaur Khan 🇮🇳 (@Agrimonious) January 2, 2021
These idiots don't realise that every time they register FIR's against comedians they're only exposing larger audiences to their work. I hope Munawar gets millions of new fans and people listening to him. https://t.co/JMOycVUmC6
— Aditi Mittal (@awryaditi) January 2, 2021
Where a section of Twitteratis was outraged on the arrest of the 5 comedians, right-winged Twitteratis had their share of pride to show.
(With inputs from The Indian Express and Free Press Journal)
For more updates follow us on Instagram and Twitter