Mobile app development, isn't that something we all want to do or at least try? Knowing how beneficial it can be for one to learn how to develop an app, you're at the right place at the right time!
We have a professional training programme for app development on Flutter!
What's the mobile app development course about?
The course is about building a mobile application for android and ios as well using a single code base.
Contents covered
– Flutter
– Deep dive into Dart
– Events
– Widgets
– Layouts
– Firebase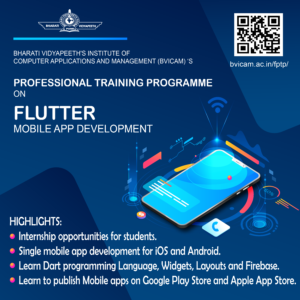 Duration of course
– 48 hours
– From 26/9 to 8/11
– Saturday and Sunday(Session 1 -> 11 to 1 & Session 2 -> 2 to 4)
Live course
– Yes, Live course with easy doubt clearance
Early-bird , Registration
EARLY BIRD – ₹1200 if registered till 21st September 2020
REGISTRATION – ₹1500. Registration closes on 24th September 2020
So what are you waiting for? Register now on the link below!!
Follow us on Instagram and Twitter for more updates!