There are few better reasons to watch a show than "because it's good". But, when we talk about Peaky Blinders. The consensus is there: all of its seasons to have debuted to rave reviews – one critic called it "the most intelligent, stylish and engrossing BBC drama in ages" – with the show as a whole currently sitting at 86 percent on Rotten Tomatoes.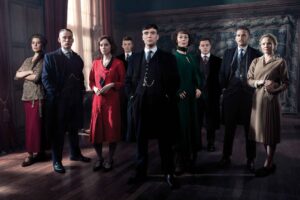 PLOT
The Peaky Blinders, a small gang that run the streets of Birmingham in the aftermath of the Great War. The gang is led by Thomas Shelby, an exceptionally bright and violent man who is revered as a war hero for his role as a tunneller.
It's Tommy's ambition to remove all competition in the book-making market, allowing him to establish a legitimate monopoly. He believes the gang can only accomplish this through violence and deceit.
All the while, Tommy and his family are pursued by a ruthless Northern Irish policeman, Major Chester Campbell. Campbell, a pious, sadistic man, has been sent to Birmingham to wrest control of the city back from the Peaky Blinders, and he'll stop at nothing to do just that.
CAST
Cillian Murphy
Paul Anderson
Tom Harper
ENGAGING FROM THE START…
From the moment that Major Chester Campbell viciously beats Tommy's unarmed brother in the first episode, you're dying to see the man get his comeuppance and for the Peaky Blinders to succeed.
BINGE WORTHY??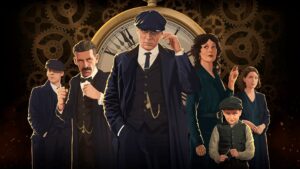 If you can't get enough of British period pieces and gangster operatics. Or of Cillian Murphy's otherworldly blue eyes. His portrayal of Tommy Shelby, a war veteran and gang leader haunted by PTSD, is the highlight of the series. Which is loosely based on a real-life gang that flourished in the infamous slums of Birmingham. Set in a powder keg of corrupt cops, I.R.A. radicals, communists, gambling, drugs and murder, Shelby insists on throwing lit matches at his enemies — and the explosions he sets off only get bigger as the show goes on.
FOR MORE UPDATES, FOLLOW US ON Instagram