From the clutches of coronavirus pandemic, surely everyone has suffered.  One of the major shifts that have occurred in the weeks and months that we have all been in the grip of Covid-19's pandemic and subsequent lockdown, is the move of educational institutes to go online for their interactions, classes, and mentoring of students in all areas.
Online classes have been labelled as education without a personal touch. It is claimed that with online classes, the traditional classroom experiences cannot be replicated.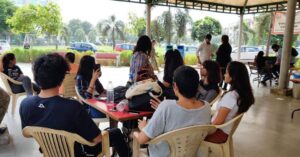 As students had the habit to study in institutions with their peers and with the comfort and freedom to hang out with them in between classes or even during classes. It has become very difficult for these youngsters to cope with their studies now sitting in a room alone, without any associates.
It is compulsory to not ignore the hardships of students in these already difficult times. Whether it is the mental pressure caused due to the feeling of solitude or the feeling of missing out on the experiences of the outside world, or the pressure of assignments and exams. Every student is suffering in some way another.
Giving all these feelings of students a tag of 'tendency of escaping from their duties' is abysmal. All these feelings are natural and normal for a human being. Also, it is the duty of a person and people around them to deal with and understand the discomfort, to keep a peaceful environment.
Online Classes: The Good Side
A positive approach to everything helps in the well-being of humans in many ways. As we do not have the option to escape these online classes, we can use this for our self-development. Even Winston Churchill said,
~The pessimist sees difficulty in every opportunity. The optimist sees the opportunity in every difficulty.
So to find some positivity in these times. Here's a list of few things, that can be looked upon as a beneficial thing from the online classes.
Online classes offer you comfort and flexibility. You can lie down in your bed while attending a class or take your classes to the rooftop or balcony. It also caters to your comfort level and enables you to study and mark your "attendance" from your home. If a class is at 10:00 in the morning, one doesn't have to do the effort to wake up 2 hours before. One just have to do the efforts of starting their device 5 minutes before the class
Online education has also proven to be a boon for people who were craving for some 'me time' amidst their busy life. This could be a great time to work on getting regular sleep, regular exercise, healthy nutrition, and getting regular work hours. Everyone can finally enjoy that hobby that we never got around to. We can binge all the things that are on our watchlist for ages.
For self-development, one can opt for a variety of other subjects to study. With a variety of programs easily available, a person can easily polish their skills.  It is obvious that one cannot go to the work field and meet new people to gain experience. But youngsters can be prepared and be ready for the coming years by acquiring specialization in different fields.
The most valuable advantage of online classrooms is that there's no need to commute from one place to another. The virtual classroom is also available anywhere there's an internet connection. Which makes it comfortable for students to attend classes. That further helps the student to get easier attendance. Due to the elimination of travelling, one can use that time to do something else for their benefit. On top of that, not only it saves time, but also saves money, which can be spent on other priorities
Finally, remember that no matter how bad the storm is, it will always pass. These suffering times will too pass away. Make sure to prioritize your health both mentally and physically. Also, do not let this discomfort situation make your life even more uncomfortable. One can always filter out the good from the bad.