World Students' Day is celebrated every year on October 15 on former president APJ Abdul Kalam's birthday. The day is commemorated on his birth anniversary as Dr Kalam was a dedicated teacher and identified himself foremost in that role before anything else. Due to the former President's love for students, various educational institutions in India observe Kalam's birthday in their own way. Notably, in 2010, the United Nations declared October 15 to be World Students day.
The theme of World Students' Day 2020 is 'Learning for people, planet, prosperity, and peace'.
APJ ABDUL KALAM was born in Rameswaram, Tamil Nadu on October 15, 1931. He served as the 11th President of India from 2002 to 2007. Popularly known as the 'Missile Man of India'.
He  played a leading role in the development of India's  missile and nuclear weapons programs. He was president of India from 2002 to 2007.
APJ Abdul Kalam earned a degree in aeronautical engineering from the Madras Institute of Technology and in 1958 joined the Defense Research and Development Organization (DRDO). He soon moved to the Indian space research organization where he was project director of the SLV  3 India's first indigenously designed and produced satellite launch vehicle .
Why exactly is world students day celebrated as APJ ABDUL KALAM's BIRTHDAY?
APJ Abdul Kalam was not just a politician and aerospace scientist, but also a teacher. He wanted the world to remember him as a teacher.
His love for students, finds best voice when he said, "Dream, Dream, Dream, Dreams transform into thoughts. And thoughts result in action." He had also further said, to students, "If you fail, never give up because FAIL means 'first attempt in learning'."
In the 2006 Presidential address, at the presentation of National Awards to teachers, he had famously said that teachers are the builders of society and the society can be built only when the students are made proficient in their subjects. He further added that they have to provide a vision for life to the students and also inculcate the fundamentals of values which they should practice in years to come
APJ Abdul Kalam died on July 27, 2015, doing what he loved – teaching. He was delivering a lecture to the students of IIM, Shillong  when he suffered a stroke and fell down the stage And died .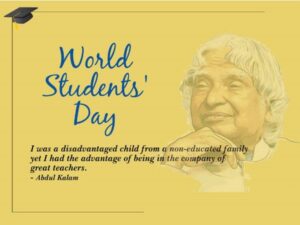 He was also known as the 'people's president'. Dr Kalam has inspired millions of people with the philosophy of 'simple living and high thinking.' Thus we honor him by celebrating World Students' Day every year.
APJ Abdul Kalam taught us many things , He taught us to be stronger and fight harder. That if you want shine like a sun, first you have to burn like it , he also taught us 'you have to dream before your dreams come true'. And in life defeating someone is not important , Winning is . and at a certain point all fail but it doesn't mean the end, your determination have to be strong enough that you keep working hard and succeed. and you will succeed .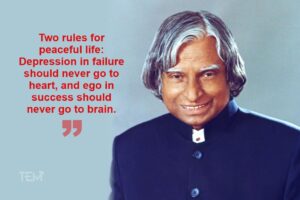 "When I am dead, do not declare a holiday. Instead, work a day extra," he had famously said.
"All birds find shelter during a rain. But the eagle avoids rain by flying above the clouds. Problems are common, but attitude makes the difference!"- APJ ABDUL KALAM.