As we all know, freshers are still waiting for their entrance exams to be held in Delhi University. Amidst this delayed situation of conducting exams, the entrance exam question paper has been leaked for Delhi University (Law Faculty).
Delhi University : L.L.B Entrance Exam
The Delhi University law entrance examination (L.L.B) was slated on September 9th, from 8 A.M to 10 A.M. But we hear that the question paper has been leaked and disseminated rampantly on WhatsApp groups and social media before the paper was released by the National Test Agency (NTA) or Delhi University (DU). Students are now facing immense hardship and chaos due to this sudden mishap. Which is just adding to their anxiety caused by this pandemic and lock down. 
Here are some proofs of the entrance exam question paper which have been on social media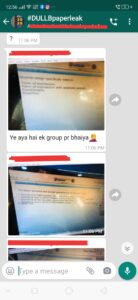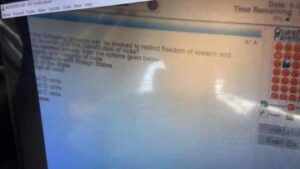 What Did A Second-Year Student Do..
A second-year law student at the campus, who gives free coaching to the aspirants for law entrance tests, went to the Maurice Nagar police station to file an FIR. However, the police, he says, didn't register his FIR. Hence, he filed a complaint against the National Test Agency.
He has also written an email to the dean of the Faculty of Law and the Bar Council of India, requesting a proper investigation in this matter. However, he hasn't received any response for the same.
Students Reaction
Students appearing in the law entrance examination for admission in DU had complained about the answer responses being tampered. Some students also alleged mismanagement at some centers, where students were asked to sit wherever they wanted to. Not only this! Their bio-metric also took place after the examination.
Follow us on Instagram and Twitter for more updates!