The Sky is Pink is a biopic based on the life of motivational speaker Aisha Chaudhary. It is a film written and directed by Shonali Bose.
Aisha Chaudhary (1996-2015) was an Indian author and a motivational speaker. She suffered from severe health issues throughout the 18 years of her life but led a happy life during all those years. She fulfilled all her dreams before her death in 2015. Her last wish was to write a book and get it published. Thereby, her book "My Little Epiphanies" was published in 2015 just one day before her death.
Cast | The Sky is Pink
Priyanka Chopra, Zaira Wasim, Farhan Akhtar, Rohit Saraf, Manas Mittal, Rajshri Deshpande, Lushin Dubey, Sudhanva Deshpande, Gurpal Singh, Ishan Jotshi, Sammy Jonas Heaney, Salmin Sheriff, Brain Nathan
Where to watch: Netflix or YouTube
Commitment: 2 hours 24 minutes
IMDb: 7.5/10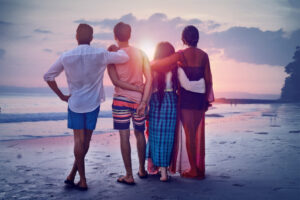 A Must Watch Movie | The Sky is Pink
It was Aisha Chaudhary, whose brave heart, inspiring and heart-touching life story inspired Shonali Bose to bring up Aisha's beautiful story on the big screen. In the movie "The Sky is Pink" portrays Aisha as a narrator telling the love story of her parents Aditi and Niren over a period of 25 years.
Zaira Wasim, a talented young female actor who made her debut with the role of wrestler Geeta Phogat in Dangal plays the role of Aisha in Sky is Pink.
It seems Aisha narrates the story of her parents from the afterlife. She tells us about their happy married life and about the problems and trauma they go through after the death of their girl child Tanya Chaudhary within the months of her birth due to the severe combined immunodeficiency condition. They get heartbroken and somewhere blamed themselves for Tanya's death.
Later, they are blessed with healthy child Ishaan, Aisha's elder brother, and then comes Aisha, who unfortunately suffers from the same disease as Tanya.
The real struggle for her parents begins from this very moment. This time they devote all their time and energy to Aisha's treatment. The whole movie depicts how parents devote their lives to their children selflessly, keeping aside all their personal desires. Her parents become overprotected for her although the family isn't able to live together.
As the story moves further, their financial status grows but Aisha's condition worsens due to the addition of other health issues. Her parents and Aisha herself set out to fulfil all her dreams. Aditi's only purpose becomes to keep her daughter happy which leads to other problems as well. Everything is beautifully depicted in the movie Sky is Pink.
Unfortunately, the days of Aisha's small life come to an end. She dies at a very young age of 18 leaving her parents and her brother heartbroken.
One just cannot stop their tears from flowing while watching this movie. It's deeply heart-touching but inspiring as well. It motivates us to do better each day and make our dreams come true as soon as possible because we don't know what's next. Therefore, live each day with happiness and make your dreams come true just like Aisha did.
Follow us on Instagram and Twitter for more updates!