For those who love road trips in far-off lands, a 70-day trip from Delhi to London with 20 passengers is such a great opportunity. Isn't that great? Not everyone loves to travel on flights. From a domestic location to international is one big jump in itself. 
Delhi-London Via Bus
This plan is launched by Adventures Overland Company, whose co-founders are Tushar Aggarwal and Sanjay Madan. This overland voyage will be in action from the year 2021. The first trip will leave from Delhi and covers 18 countries in 70 days. The co-founders of this company said that they were inspired by their trips between different countries. A lot of people say that they wish to travel to another country neither via flights nor via ships. So voila! Here comes a road trip. It's said that each person would have to pay 15 lakhs for the whole journey.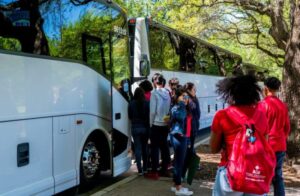 Countries Covered 
The Bus to London will travel 12,427 miles (20,000 kilometers).The countries which will be included during this prolonged journey are Myanmar, Thailand, China, Laos, Russia, Poland, Germany, the Netherlands, Belgium, France, Latvia, Laos, Uzbekistan, Kazakhstan, Czech Republic, Lithuania.
About The Bus
Talking about the bus, it's luxurious of course. The amenities which the bus carries are:
Wifi-equipped

Business-class seats

Entertainment System(each seat)

USB ports

Pantry with cooler for beverages
How To Sign Up For This?
First, download the Bus to London brochure. During this process, one will be given the option to join legs in Southeast Asia for 12 days, China for 16 days, Central Asia for 22 days, or the entire trip for 70 days.Preference will be given to those who sign up for the entire journey.
So, now the question arises! Will you prefer this 70-day adventurous road trip or not?
Follow us on Instagram and Twitter for more updates!