Popular Indian jewellery brand Tanishq has withdrawn an advertisement featuring an interfaith couple after a right-wing backlash on social media.
It shows a baby shower organized for the Hindu bride by her Muslim in-laws. Opponents of the advert say it promotes "love jihad", a term used to accuse Muslim men of converting Hindu women through the way of marriage.
Rights groups say religious tolerance is under threat in India. Hindu-Muslim marriages have long attracted censure.
A section of conservative social media users led calls to boycott the brand, taking it to the top of Twitter trends. Many joined in to condemn the abusive posts and comments which bolstered the boycott trend.
The description for the advertisement posted to YouTube read: "She is married into a family that loves her like their own child. Only for her, they go out of their way to celebrate an occasion that they usually don't. A beautiful confluence of two different religions, traditions and cultures."
The 43-second ad – promoting a jewellery line called "Ekatvam" (Hindi word for unity) – has been taken down from Tanishq's social media channels. The company issued a statement later on Tuesday saying the campaign was meant to celebrate diversity, but withdrew the advert due to the "divergent and severe reactions" it has prompted, which it said was "contrary to its objective". The company added that the decision was made keeping in mind the "well being" of its employees and partners.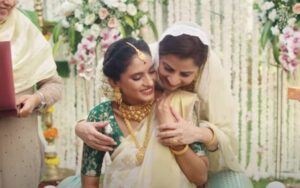 The brand first disabled comments and Likes/Dislikes on the advert posted to Facebook and YouTube. It later removed the video.
Opposition Congress party MP Shashi Tharoor, who posted the advert to his Twitter account, said that "Hindutva bigots have called for a boycott for highlighting Hindu-Muslim unity through this beautiful ad".
"If Hindu-Muslim 'ekatvam' irks them so much, why don't they boycott the longest surviving symbol of Hindu-Muslim unity – India?" Mr. Tharoor wrote.
"We are deeply saddened with the inadvertent stirring of emotions and withdraw this film keeping in mind the hurt sentiments and well being of our employees, partners, and store staff," a Tanishq spokesperson said in a statement.
The idea behind the Ekatvam campaign is to celebrate the coming together of people from different walks of life, local communities, and families during these challenging times and celebrate the beauty of oneness, the spokesperson added.
The former National Commission for Women chief Shamina Shafiq said, "Thank you for making us notice the beautiful #tanishq ad dear trolls !"
Congress spokesperson Abhishek Singhvi was caustic. He said, "Those boycotting the Tanishq ad don't like seeing daughter in law(s) happy around mothers-in-law. You have seen too many soaps & too much prime times news."
As #BoycottTanishq trended on Twitter for a while, the decades-old jewellery brand reportedly removed the ad from YouTube sparking another conversation on why the ad was removed. 
(With inputs from Washington, BBC, and others)
Follow us on Instagram and Twitter for more updates!