Former Iranian journalist Sara Omatali, currently a U.S.-based educator broke her silence on Twitter, detailing the alleged abuse that took place in the summer of 2006.
Omatali is one of many Iranian women who have in recent days taken to social media talking about their #metoo moment to tell their stories of sexual harassment and rape, breaking years of silence about an issue that remains taboo and is often swept under the rug in Iran.
The outpouring of accounts about alleged sexual abuse, rape, and unwanted sexual advances and the number of women who have joined the movement, some anonymously, appears to be unprecedented in Iran, leading to comparisons with the global #metoo movement that has occurred around the world in recent years and putting a spotlight on such abuse.
One woman said she was raped by a friend after she visited him at his apartment. She had a glass of wine and woke up the next morning in his bed, naked, she said.
Others came forward and joined the #metoo movement by claiming they had been raped by the same man, accusing him of drugging them beforehand.
Tehran police chief Hossein Rahimi said on August 25 that the man identified by the initials "KE" had been arrested after several women said they were raped by him.
Several others accused a known visual artist, as well as a popular writer, while at least one spoke of past sexual misconduct by a prominent filmmaker.
Some named their abusers publicly, others alluded to their identities. Several men also joined the campaign, tweeting about their  #metoo moment with sexual abuse.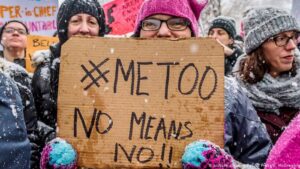 Several lawyers offered tips and legal advice to Iranian women who face discriminatory Islamic laws enforced following the 1979 Islamic Revolution that often favor men.
The global #metoo movement led to the downfall of a number of prominent figures, including the famous Hollywood film producer Harvey Weinstein, who is now in prison in New York.
The Iranian #metoo movement, which has resulted at this time in the arrest of one alleged rapist, appears to have empowered abuse survivors who had remained silent for years and, in some cases, blamed themselves for the predatory behavior of their abusers.
For more updates follow us on Instagram and Twitter