On 25th July, MV Wakashio A Japanese bulk carrier that ran aground at Pointe d'Esny off Mauritius and has leaked at least an estimated 1,000 tonnes of oil.

A massive clean-up operation involving thousands of local volunteers had been underway. Local citizens from filling sacks with cloth and sugar (sugar having a good ability to absorb oil) have been sent into the water. Reports claimed that human hair was also used to absorb oil.

On 7 August, nearly two weeks after the shipwreck, the Mauritian government declared the incident a national emergency.
What Makes It So Serious? | Mauritius Oil Spill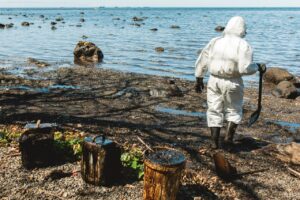 Biodiversity Hotspot
Mauritius is a biodiversity hotspot with a high concentration of plants and animals unique to the region. The Mauritian marine environment is home to 1,700 species including around 800 types of fish, 17 kinds of marine mammals and two species of turtles, according to the UN Convention on Biological Diversity.

Coral-bleaching
One of the major concerns, around the Mauritius oil spill has been for the coral reefs in the lagoon – which are sometimes called the rainforests of the sea – because of the diversity of life found in them. Around 25% of fish in the ocean depend on healthy coral reefs, according to the National Oceanic and Atmospheric Administration of the US.
They protect coastlines from storms and erosion. Coral reefs and the marine ecosystems are the major pillars of Mauritian tourism which is a big part of the country's economy.

What Next? | Mauritius Oil Spill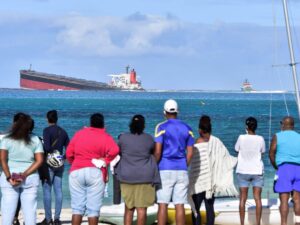 France has sent a military aircraft with pollution control equipment from its nearby island of Réunion to help with the Mauritius oil spill, while Japan has sent a six-member team to assist the French efforts.
The Mauritius coast guard and several police units are also at the site in the south-east of the island. "The Mauritian government should do the environmental impact assessment as soon as they can," said Professor Steiner.
India as part of its Indian Ocean Region outreach program has sent more than 30 tonnes of technical support and material on an Indian Force aircraft to Mauritius to supplement the country's ongoing oil spill containment and salvage operations.


Latest Update

On 15th August 2020, At around 4.30 pm, a major detachment of the vessel's forward section was observed, the National Crisis Committee of Mauritius said in a statement.

A massive clean-up operation which was underway involved thousands of local volunteers. But a crack inside the hull of the ship expanded earlier this week, according to the ship's operator Mitsui O.S.K. Lines, a Japanese company.

Tal Harris, a communications coordinator for Greenpeace Africa International, told CNN that authorities have "decreed the area a forbidden zone" and volunteers have been asked to cease activities.

(With inputs from BBC, CNN)