For the Education Minister's webinar on December 10, students across the country have started asking about JEE Main 2021 and NEET 2021 date and syllabus. While some students have asked for a postponement of the Engineering and Medical entrance exams, others have urged Education Minister Ramesh Pokhriyal 'Nishank' not to postpone the entrance exams. Usually, the National Testing Agency (NTA) conducts the first phase of the JEE Main exam in January.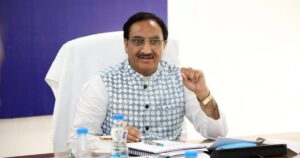 A PTI report last month quoted an official saying that the first shift of JEE Main 2021 is likely to be held in February instead of January.
About JEE Main 2021 and NEET 2021 syllabus, a student asked: "Please tell the students about the jee and neet 2021 syllabus as we are facing problems in completing the syllabus in the given time please disclose the official syllabus on http://nta.nic.in as soon as possible."
The Education Minister previously directed the NTA to draw up a fresh syllabus for competitive and entrance exams it will conduct in 2021.
The decision to hear students' feedback was taken in a review meeting chaired by Mr Pokhriyal. In the meeting, it was decided that the Education Ministry will hear from students, parents and teachers about how to conduct board and other exams in 2021.
A student has asked for a postponement of board exams.
"Please give third chance to droppers to appear in Jee Advance 2021. The pandemic caused a lot of stress and disturbance in studies," another student said.
"With all that has happened this year, we humbly beg you to postpone both Boards and JEE/NEET to at least May of 2021, so that we could prepare ourselves to give our very best," another student wrote, using #EducationMinisterGoesLive.
A student said that JEE Main and NEET are "crucial exams" and syllabi should not be reduced. "You may postpone the exams but I urge you not to reduce the syllabus of competitive exams," he said.
Union Education Minister Ramesh Pokhriyal Nishank would be online on December 10, 2020 at 10 am to discuss with the students the concerns and suggestions on CBSE Board Exams 2021 as well as competitive examinations like JEE and NEET 2021. Students, parents, teachers and other stakeholders have been asked to share feedback, concerns and queries. It is expected he would be making important announcement regarding the board and competitive examinations. Till then, all can send their concerns, queries and suggestions to him.
Follow us on Instagram for more updates!